Description
Option 2: Standard Membership Level ($399.00 With A $19.95 Monthly Fee)
With this membership level, you receive a very special valuable bonus as 2 CSUSA Emergency Alert Child I.D. System USB portable identification cards are actually included with this package (a $209.95 value) For FREE!
This "Updated For The Times" monthly membership level includes some items from our previous legacy program that is no longer available as well as advanced features for the way busy parents, grandparents and legal guardians communicate and consume information today online and via mobile apps.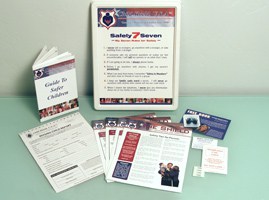 Newly Updated "Guide to Safer Children"

This very informative booklet includes " The Child Identification Guide: "What To Do . . . When To Do It!"




Video Registration

Our Long Time Video Registration Service – Instructions On How to Record A Video Of Your Child – Secret Identification Code Labels For The Video Registration Service




Important Child Safety Rules

The "Safety 7 Seven Rules" For Children – You will also receive the Safety 7 Seven Poster – In An 11″ X 14″ Frame with Rear Storage Pocket To Keep The "Safety 7 Rules" In Front Of Your Kids Regularly




What To Do If Your Child Is Missing Instructions

What To Do If Your Child Is Missing Instructions




Ongoing Child Safety, Security and Emergency Preparedness Tips

Child Safety, Security & Emergency Preparedness Tips – Important Child Safety, Security & Emergency Preparedness Website Links




Monthly "The Shield" Physically Mailed Newsletter

Physically Mailed Copy Of Our Monthly "The Shield" Physically Mailed Newsletter Designed To Keep Monthly Membership Subscribers Updated On A Wide Array Of Child Safety & Security Topics




Monthly "The Dispatch" Video Newsletter

Every Third Monday Of The Month, Our Monthly Membership Subscribers Receive A Video Newsletter Called, "The Dispatch" Via Email Covering Different Safety, Security And Emergency Preparedness Information Not Covered In Our Monthly Physically Mailed Newsletter




 Weekly Wednesday Video Safety Tips

Every Wednesday, Monthly Membership Subscribers Receive A Special Quick Child Safety, Security Or Emergency Preparedness Video Tip To Help Engage Their Kids On A Wide Variety of Important Topics To Help Children Build Real Confidence In What They Can Do In Potential Criminal Or Other Critical Emergency Situations




Private Back Office Access

Special Direct Access To Our Monthly Membership Subscribers Brand New Membership Back Office For Lots Of Current News, Information, Videos, Books, Articles And Website Links To Help Increase The Personal Safety, Security And Emergency Preparedness Of Your Children And Your Entire Family On A Regular Basis




Child Shield, USA Mobile App

Direct Access To Our Brand New Child Shield, U.S.A. Mobile App


In addition, as with our previous legacy membership program, CSUSA will immediately distribute covered child photographs, videos, produce and distribute press releases and other information to selected law enforcement agencies and broadcast media outlets as suggested and approved by the official law enforcement agency investigating a covered child's disappearance.
As a brand new expanded value added service, CSUSA will now also immediately be able to assist clients with missing or lost children covered by our membership program by expanding law enforcement, broadcast news media and even social media platform engagement to raise greater awareness to the client's missing child situation, including directly researching and coordinating information as to whether there may be access to certain public or even private reward money and other valuable resources available to assist with a confirmed missing child case. As a brand new expanded value added service, CSUSA will now also provide additional emergency notifications and special updates to local, county, state, national and even international public and private database clearinghouses for direct cases involving covered missing children, parental abductions, reported runaways and other categories.
While CSUSA no longer provides any company funding to possibly hire private investigators to become involved in any missing child case, CSUSA is able to assist clients in obtaining specially discounted rates for nationwide private investigation services that would not normally be available to the public. Bear in mind, any discounted investigative service fees would have to be paid in advance by the client to the actual private investigation agency if the member client chooses to utilize any/all private investigator services.
While CSUSA no longer offers any company funded reward money for missing children cases, when and where appropriate, CSUSA can now assist clients in setting up a professional real online fundraising campaign to increase awareness of their missing child situation while also helping to possibly raise direct donations for the client to help offset some of the significant costs a family may incur as a result of a missing child incident like being able to print and post flyers, organize search volunteers, holding community awareness events, hire a private investigator, pay for medical expenses or even funeral expenses, etc.
The creation of an online fundraising campaign is a great way to get the local community involved when a missing child incident occurs. It can also be extremely helpful in letting close family, friends and neighbors become even more actively involved in helping provide support when an unfortunate missing or lost child incident occurs. Of course, there are no guarantees that any donations will be raised via any online fundraising campaign as all donations are strictly voluntary.
These expanded valuable benefits and level of service and dedication has never been available before and CSUSA is excited about the ability to now be able to provide these extremely valuable services should the unfortunate need ever arise.