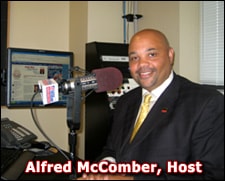 President & CEO's Message
Thank you for your interest in Child Shield, U.S.A. My name is Alfred McComber. For the past several years, I have been the President and Chief Executive Officer of Child Shield, U.S.A.
In very late December of 2014, I purchased the company and I am extremely honored and blessed to be at helm of this very unique child safety, security and family emergency preparedness training service company that has been "America's Protector of Children Since 1990."
Since David Slockbower, the original founder and President of Child Shield, U.S.A. started the company over 28 years ago and was actually featured live on the Oprah Winfrey show, more than 1.9 million of Child Shield, U.S.A.'s child safety kits have been shipped out from the company's national headquarters to our clients across Ameria including parents, grandparents and legal guardians who are serious about finding real solutions to help increase the personal safety, security and emergency preparedness of their kids.
Unfortunately, with an average of more than 2,000 children being reported missing to local police agencies and the Federal Bureau of Investigation (F.B.I.) each and every day across the United States, there is no time to sit around celebrating as there is still so much more work and training that needs to be done to help protect young people and their families because today's kids really are the future of America.
For over 28 years I was involved in both reserve and full-time sworn law enforcement, emergency preparedness operations and very high-level dignitary protection guarding numerous high profile royal family members, dignitaries,
government officials, corporate executives and even famous celebrities.
Since 2004, I have also been the host of the Code Red! Radio Show (visit: www.CodeRedRadioShow.com) specifically dedicated to personal security, safety and emergency preparedness issues across America and around the world. The hour long daily live radio show was previously available and broadcast during the morning drive line up Monday through Friday on the Fox News Radio Network local affiliate radio station in Washington, DC as well as a weekly live one hour radio broadcast on Federal News Radio in the nation's capital.
I know firsthand what it really takes to protect you and your entire family including your children, grandchildren and other children that may be under your care. Proper child safety, security and family emergency preparedness is NOT a one-time event!
Instead, it is an ongoing process of risk assessment, threat analysis, increased situational awareness, real training and re-enforcing proper behavior with your children to help reduce the chances that your children will become needless victims of crime or even casualties from natural and/or man-made disasters.
In law enforcement and dignitary protection, one of the first things you learn as an academy recruit is "Be Prepared! Always Have A Back-Up, To The Back-Up's, Back-Up!" At Child Shield, U.S.A., we are your silent but ever present back-up, to the back-up's back-up! Through our powerful proven program of providing up-to-date safety, security and family emergency preparedness education for children and parents first, then providing additional emergency response services that immediately go into effect if there is ever a missing child incident involving your covered child, we are your official "Virtual Personal Bodyguards" ready to swing into action with a prepared response plan at a moment's notice to help assist you with any missing child crisis involving your children from infants all the way through college age students.
It is my personal commitment and vision to continue the Child Shield, U.S.A. legacy with necessary updates and "Change With The Times Initiatives" to add even more value, benefit and top notch services to help our clients better protect their children and all their family members from a wide array of criminal attacks, natural/man-made disaster challenges and family emergency preparedness situations as we live in an often dangerous and very violent world.
Be on the look-out for exciting news because during the coming months, Child Shield, U.S.A.will be introducing several exciting and very well known personal security, safety and emergency preparedness experts who will provide you with the latest tips, strategies and insight to increase your family's overall security, safety and disaster preparedness.
There will be live and recorded webinars, video newsletters, expanded content, in-person training opportunities across the nation and a whole lot more and best of all, it's all included in your monthly low cost membership.
One child and one family at a time, you and Child Shield, U.S.A can make a difference and save countless young lives. Be sure to share this website with friends, neighbors, colleagues and associates. Doing so could just save a child's life!
If you have any questions or need further assistance, please call our national headquarters office any time toll-free at:       1-800-OK-CHILD or (1-800-652-4453).
Be Vigilant, Be Prepared, Be Safe!
Alfred McComber
President & CEO
Child Shield, U.S.A