Description
When dealing with child security, safety and emergency preparedness issues, there are some basic and more advanced proven strategies that you can definitely employ with your children to help them be better prepared to deal with emergency situations and incidents whether you are present with your children or unable to be with your children when a critical situation occurs.
In the event of any situation involving a lost, missing or abducted child, one of the most important factors in attempting to locate your child will be having as much detailed and extremely important information about your child in one place and immediately within your reach no matter where you are in case law enforcement officials need to get involved in your child's disappearance incident.
To that end, we are excited to introduce the brand new Child Shield, U.S.A. Emergency Alert Child I.D. System USB Portable Identification Card that  is now available as your very first line of defense if your child should every become lost, missing or abducted. This brand new advanced USB technology portable identification card (about the thickness of 2 credit cards placed together side by side for easy carry in your purse or wallet), is designed to help you be better prepared in case your child should ever go missing by providing you with immediate, up-to-date details and personal information about your child to law enforcement personnel at the very moment the police arrive on the scene regarding a possible lost, missing, abducted child incident or other emergency situation.
This device is more than just a handy portable storage device for your child's pertinent information, it also features special training and critical information to help protect your child on a variety of important topics like "Children And Strangers Security; Internet Security For Kids; Communicating With Your Child; Beyond Booster Seats and even "Youthful Water Safety."
The device also contains some other extremely valuable resources and special surprises to help keep your children and your entire family better prepared for both criminal situations and other critical emergencies. The device even features a special video training presentation from CSUSA President & CEO Alfred McComber entitled, "Child Safety & Security Is Not Child's Play! – 10 Precautions You Can Immediately Take To Help Increase Your Child's Safety, Security & Emergency Preparedness Before Disaster Strikes!"
BELOW IS THE VIEW OF BOTH THE FRONT AND REAR OF THE BRAND NEW PORTABLE USB TECHNOLOGY CSUSA EMERGENCY ALERT CHILD I.D. SYSTEM CARD…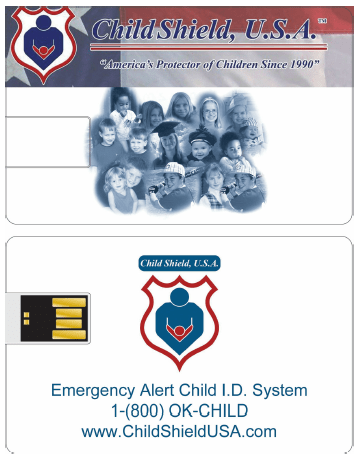 The one-time investment for CSUSA Emergency Alert Child I.D. System USB portable identification card is just $149.95 for the first card in the family household and than only $60.00 per each additional card requested for other children in the same household.
There is no ongoing monthly billing fee for the card; however, clients can choose to have their child's information and data on the card updated at any time by simply paying a small processing, priority shipping & handling fee of only $14.95 per card updated.
Keep in mind, children often grow up so fast that their physical appearance can change significantly over just a short period of time. As a result, to be absolutely prepared, it is recommended that each child's identification card be updated at least once per year so that law enforcement officials and others will have updated information in case of any emergency situation.